The Greatest Gift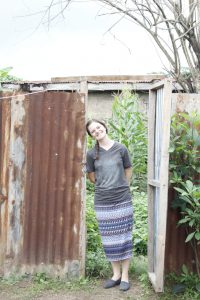 We bowed our heads, we closed our eyes, and we stretched out our hands. In short, we blessed her. But what I came to understand by spending time in relationship with Nigerians is that we gave her the greatest gift. We called on the name of the Almighty and asked Him to look on her- her thoughts, her words, her work, her ideas, and her faith with favor. Last year the MOYA Foundation team had blessed her, and she got to tell us how she saw the physical, tangible fruits of that blessing. Now she had a specific task in mind: building a flat for missionaries to stay in when they visit. She asked us to bless this project so that the project could in turn be a great blessing to others. If we had given her supplies to start building, they would have run out. If we had given her money, it would not have been enough. If we had fed her, she would have been hungry again. Supplies, money, and food are all types of blessings, but surrendering this woman and her dreams to the Almighty was the greatest gift we could give. I was in tears during that prayer, completely overwhelmed with the fact that God would let me give this perfect gift to His beloved daughter.
I learned more about the power of blessing through the second MOYA Foundation medical clinic. It was held at Christ's Apostolic Church in Ede. I tested the vision, blood pressure, and hearing of close to 250 people. After Anna, another college intern on our team, and I ran these tests I got to summarize the results for them and ask them about any other concerns. Almost every person described at least one pain, ache, broken bone, blurry vision, arthritis, tumor, etc. My heart broke. They looked into my eyes, expecting answers to flow from my lips and medication to be put in their hands. Yet I could do none of this. My heart broke as I grasped their situation, their pain, and their disappointment. One woman asked me for medication, I declined, and instead of expressing dismay, she asked if someone would bless her. I'm that moment, I was surprised. When she could not get medication, she knew without a doubt that a blessing could heal her. Her faith was strong, and mine was getting stronger. No matter how many pairs of glasses or bottles of antibiotics I had, I could never exceed God's heart to help and power to bless. Having those resources would have most definitely blessed these adults, but God was teaching me that it is faith alone that heals and draws people into His Kingdom. Even though our goal was only to assess needs and not to meet needs, I know that my prayers of blessing have and will be used to meet physical, tangible needs.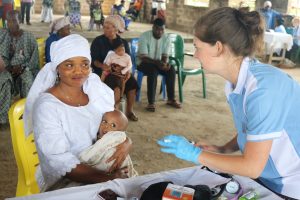 Lastly, I learned a lesson in blessing from a little boy with just one working eye. Since he was so young and could not read the letters on the eye chart, I tested his eyes by having him copy my actions. I patted my head, waved my hand, touched my feet, and did a little dance. He copied each move exactly. I was filled with joy to help. Then I listened as Robin spoke with his mother and prayed for them both. I rested my hands on his knee and prayed earnestly for him. I immediately felt peace because I knew God was using me to help him in the best way. The gift of blessing was the greatest gift I could possibly give.
– Kayley Goertzen, Intern